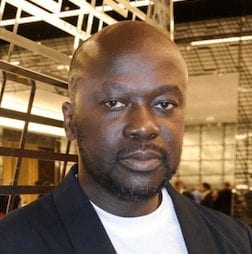 Sir David Adjaye OBE is recognized as a leading architect of his generation. Adjaye was born in Tanzania to Ghanaian parents.
In 1994, he set up his first office and established himself as an architect with an artist's sensibility and vision. He reformed his studio as Adjaye Associates in 2000 and now has offices in London, New York and Accra with projects in the US, UK, Europe, Africa, Asia and the Middle East.
His largest project to date, the $540 million Smithsonian Institute National Museum of African American History and Culture, opened on the National Mall in Washington DC in fall of 2016 and was named Cultural Event of the Year by the New York Times.
Other prominent completed work include the Idea Stores in London (2005), the Moscow School of Management SKOLKOVO (2010), the Sugar Hill mixed-use social housing scheme in Harlem, New York (2015); and the Aishti Foundation retail and art complex in Beirut (2015).
In 2017, Adjaye was knighted by Her Majesty the Queen for services to Architecture, was awarded an OBE in 2007, and was recognized as one of the 100 most influential people of the year by TIME magazine. He has received the Design Miami/ Artist of the Year title in 2011, the Wall Street Journal Innovator Award in 2013 and the 2016 Panerai London Design Medal from the London Design Festival.
Adjaye has held distinguished professorships at the Harvard, Princeton and Yale universities. He has also taught at the Royal College of Art, where he had previously studied, and at the Architectural Association School in London.