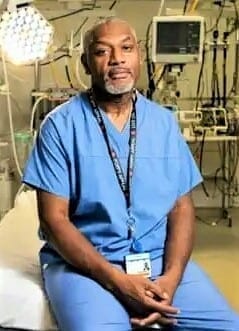 Born in South-east London to Jamaican parents, Martin is a consultant vascular and trauma surgeon at Barts Health NHS Trust where he is the Lead for Trauma Surgery, Educational Lead for Surgery, and the Trauma Network lead for violence reduction.
He trained at the Medical School of St Bartholomew's Hospital where he graduated with a distinction in Surgery. He has lived and worked in London most of his life.
He teaches undergraduate medical students at Barts & Brighton medical schools and teaches on the faculty of numerous courses at the Royal College of Surgeons of England.
He is a passionate advocate of diversity and equality has worked in the community to promote this for over 15 years. He was recently appointed as the first Ambassador to the Mary Seacole Trust. This charity celebrates the life and achievements of Mary Seacole, a Jamaican born nurse who treated troops in the Crimean War, and promotes her as a role model, tackling social challenges and inequality with a focus on youth engagement and the promotion of good citizenship.
He has been working with schools for more than 20 years to reduce gun and knife violence and was recently appointed to the Violent Crime Prevention Board, under the leadership of Dr Neville Lawrence. The VCP Board seek to challenge the attitudes around interpersonal injury in London.
He set up the first in country integrated ward-based violence reduction service at Barts Health supporting the victims of knife and gun injury, which has had spectacular success in reducing retaliation and violent reoffending in this group of vulnerable young people.
He was awarded the Hero Doctor Award at the recent NHS Heroes Awards, for his role in caring for people injured in the 2017 London Bridge terror attack. He was named by the Evening Standard as one of the 1000 Most Influential Londoners, and gave the keynote address at the NHS70 celebration at Westminster Abbey in 2018.
In 2019 he became a Deputy Lieutenant (or DL) of Greater London serving with Sir Kenneth Olisa, Lord Lieutenant of Greater London.