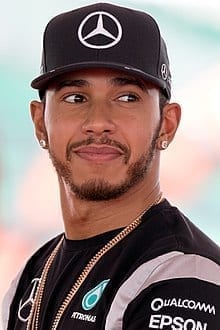 Lewis Hamilton, MBE was born July 1985 in Stevenage, Hertfordshire, England to a father born in Grenada and white mother born in England. Hamilton is a British racing driver who races in Formula One (or F1) for the Mercedes AMG Petronas team. A six-time F1 World Champion, the most for any British driver, Hamilton is considered to be the best driver of his generation, and widely regarded as one of the greatest F1 drivers in the history of the sport.
Hamilton won his first World Championship title with McLaren in 2008, then moved to Mercedes where he won back-to-back titles in 2014 and 2015 before winning 3 more titles in 2017, 2018 and 2019 making him one of the most successful F1 drivers of all time.
Statistically the most successful British driver in the history of the sport, Hamilton has more race victories than any other British driver in F1, and holds records for the all-time most career points, the most wins at different circuits, the all-time most pole positions and the most grand slams in a season.
Hamilton is the first and only Black driver to race in F1. In his first season he set numerous records as he finished runner-up in the 2007 F1 Championship to Kimi Räikkönen, by just one point. He set records for the most consecutive podium finishes from debut (9), the joint most wins in a debut season (4) and the most points in a debut season (109).
In his second season Hamilton won his first F1 World Championship in dramatic fashion; on the last corner of the last lap in the last race of the season, becoming the then-youngest Formula One World Champion in history. After four more years with McLaren Hamilton signed with Mercedes AMG Petronas for the 2013 season when he finished 4th once again, the third time in five years. His next 6 years with Mercedes were simply historic. He won his sixth F1 World Championship in 2019 which puts him just one fewer than Michael Schumacher.