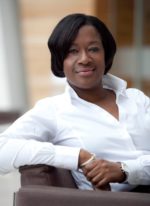 Tech industry pioneer Jacky Wright is named the UK's most influential black Briton by The Powerlist 2022 which is the annual list of the UK's most powerful people of African, African Caribbean and African American heritage.
Wright, Chief Digital Officer and Corporate Vice President at Microsoft US, is widely regarded across the world as one of the most influential black women in the tech industry. Wright was born in north London, but works in the United States; she has been vocal about the need for the tech industry to address its lack of diversity and has been the driving force behind a number of innovative programmes to achieve this goal.
Before working at Microsoft Wright held high profile roles at BP, General Electric and Andersen Consulting. In 2017 she was chosen to be Chief Digital Information Officer at HM Revenue and Customs. She spent two years in the position on secondment, then she returned to Microsoft in 2019.
Speaking about how she felt to top the latest Powerlist she told The Voice newspaper: "It feels surreal. I'm one of those people who likes to do what they do quietly. I'm all about change; I've been doing it my entire career, and I've focused on how we make this world a better place."
She hopes that the award would further encourage a debate, which began last year in the midst of the Black Lives Matter protests, about making the tech industry more diverse.
"I think we're starting to see companies take bold action" she said. "The question is, will it be enduring? Or will it fall off? I think we are at this point where we have to maintain vigilance in terms of holding companies accountable. Because if we don't the next big thing will come up, and we would have forgotten what we were pledging to do."
While acknowledging that she is seen as a role model for many people from diverse backgrounds wanting to get into the tech industry, Wright also pays tribute to her family who she says played a key role in her success.
"I grew up in a family where education was non-negotiable. You knew you were going to university, there were no if or buts about it," she recalls.
"But I also came from a family that always spoke about their culture and where they came from. My dad and my mum came from Jamaica. Also my dad always spoke about Africa, whether it be South Africa, whether it be the Congo, or East Africa. Learning this history, played a key role in my psyche, in terms of knowing who I am, where I come from and having the confidence that I could achieve anything."
Michael Eboda, CEO of Powerful Media, said: "The Powerlist continues to be a great showcase, acknowledgement and reminder of the amazing individuals of African, African Caribbean and African American heritage we have in the UK and I would like to congratulate each and everyone on the list."
"Jacky Wright is a true professional who well deserves being recognised as the UK's most powerful black Briton on the 2022 Powerlist. She is a shining example of professional excellence and this is evident through the roles she has been appointed to throughout her illustrious career. She is a role model to many, and I applaud the great work she is doing at Microsoft US."