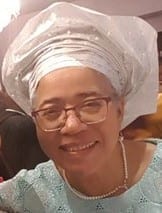 Born in Birmingham in 1947, Elizabeth identifies as of Irish/Nigerian heritage and started work for the NHS as a school nurse assistant in Wolverhampton at the age of 16. She was inspired to become a nurse at age four because a wonderful nursing nun treated her childhood eczema in an expert and sensitive manner.
Elizabeth put a substantial amount of her life into her work as a nurse, health visitor and tutor working with black and minority ethnic communities in London. "People from diverse cultures are not always valued and still sometimes just seen as problems," she says. In 1979, she helped to establish in the London borough of Brent the first UK Sickle & Thalassemia Screening and Counselling Centre.
Elizabeth was honoured with a Damehood (DBE) in the 2017 Queen's New Year's Honours List for her services to nursing and the Mary Seacole Statue Appeal. The Queen's Nursing Institute awarded her a Fellowship (FQNI) in October 2017. In 2001 she was awarded a CBE for services to nursing. In 2004 she was presented with the Royal College of Nursing Fellowship (FRCN) for her work in the development of nurse-led sickle cell and thalassemia counselling services and education and leadership in transcultural nursing. She is a Patron of the Sickle Cell Society as well as the Sickle and Thalassemia Association of Nurses, Midwives & Associated Professionals (STANMAP).
In 1999 she became Head of the Mary Seacole Centre for Nursing Practice at the University of West London until her retirement in 2007. The university honoured her with the award of Emeritus Professor of Nursing.
Elizabeth was vice-chairperson of the Mary Seacole Memorial Statue Appeal from its launch in November 2003. The statue was unveiled in the grounds of London's St Thomas' Hospital in June 2016. She is now a Life Patron of the charity, the Mary Seacole Trust.