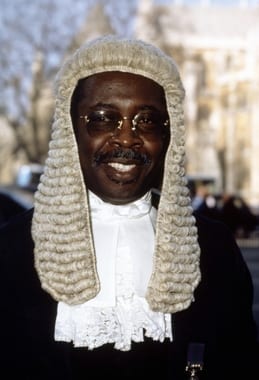 The former High Court judge is believed to be the first person of African ancestry to be made a Queen's Counsel (or QC) in England and Wales.
Dr Roberts CBE, QC was a man credited with many firsts, the most notable being the first person of African ancestry to be appointed by the British Government to serve as a High Court judge of the Supreme Courts of the British Virgin Islands, and Anguilla, British West Indies in 1992.
Born in Sierra Leone on 17 May 1928, he was a keen pianist, organist, guitarist and choir singer, who was passionate about helping people. So eager was he to serve his people that he is reputed to have been the first head of Chambers to allegedly accept seven female barristers all at once, unheard of in 1975.
Many regarded him as a modest humble man who refused to push himself forward. However many are of the view it was this attitude coupled with his unparalleled self-belief that enabled him to achieve the distinction of being the first person of African ancestry to become the Head of his Chambers in England and Wales.
His Chambers at 2 Stone Buildings was fully representative, mixed and diverse with Asian, white and African and Caribbean members. He jocularly remarked at a special event held in his honour at the House of Commons in 2007 that at one point there were more white staff than ethnic minority on his team.
Dr Roberts is the great grandson of the first President of Liberia, Joseph Jenkins Roberts. In his earlier life he was an RAF pilot with accounting qualifications. He was posted to Europe, the Near East, the Far East and the South Pacific as part of his RAF duties until 1962. When not on duty he was an avid boxer and sprinter. Immediately after his service in the RAF, he was invited to serve in the Sierra Leone Civil Aviation Service by the Prime Minister of Sierra Leone, where he worked in the Air Traffic Control Services Department until 1964.
Following his marriage in 1961 to a Jamaican nurse, the couple had a son before they returned to the UK where he worked as a Civil Servant between 1964 and 1969. During this time he read law part time at the Inns of Court School of Law, affirming his love for helping people. He was called to the Bar (Gray's Inn) in 1969, becoming a Master of the Bench in 1996. In 1972 he became a Member of Lincoln's Inn.
In addition to the English Bar, Dr Roberts may have set a record by being called to the Bars of ten other countries, namely: Jamaica (1973), Sierra Leone (1975), Trinidad & Tobago (1978), Bahamas (1984), St Kitts & Nevis (1988), Antigua (2002), Barbados (2002), Bermuda (2003), Anguilla (2006) and Grenada (2007).
In recognising his many accomplishments, he has not only distinguished himself as a legal giant, but he has made the African Caribbean community extremely proud by being the first person of African ancestry to be made a Recorder of the Crown Court in England and Wales.
Dr Roberts, in keeping with his desire to empower his people, accepted the role of Bencher of the Council of Legal Education in Sierra Leone in 1990; and tutored on Advocacy for a period between 1990 and 1992 at the Inns of Court School of Law in London.
As a means of remaining active Dr Roberts served as a former President of the British West Indian Ex-Servicemen and Ex-Service Women's Association along with serving as a former joint President of the British Caribbean Association UK.
Other accolades accorded to him include being made an Honorary Citizen of Atlanta, Georgia, USA in 1991; a Freeman of the City of London in 1996; an Honorary Citizen of the British Virgin Islands in 2000; and then receiving an Honorary Doctorate from City University in 1996. He also served as a fellow of the Chartered Institute of Arbitrators and sat as an arbitrator and a door tenant at Warwick Court Chambers for some years.
Arguably his crowning achievement was being awarded a Commander of the British Empire (or CBE) in the New Year's Honours in 2011. Dr Roberts received this award for the Administration of Justice, Diversity and Equal Opportunities.